Description
Is made of polymer compounds and comes in rolls or sheets. Its magnetic permeability is remarkable low: K=10-12 ÷10-16cm/s. The most used type in Vietnam is the blank and smooth type of HDPE geomembrane.
HDPE geomembrane
Application & usage:
+ As waterproofing or partition walls for factory, barn,…
A roll of HDPE geomembrane
+ Used as bottom liner for landfills to prevent pollutants from invading the surrounding environment; for wastewater treatment: anaerobic lakes, biological lakes…
+ Used to cover landfills as a solution to prevent rain water, to collect gas, to prevent bad smell,…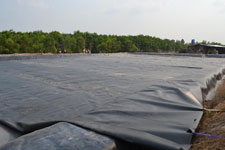 Used at lake bottom liner
+ Used in different types of water storage: lakes, pits,… to serve producing and farming process.
+ Used in high quality tunnels, ditches, dikes, dams, basements…